What's on this site
---
Web site last updated on:
23 May 2017
80th Anniversary News, Notices & Events
This year is the 80th anniversary of the arrival of the SS Habana and its 4,000 children passengers.
We are involved with a series of public events around the UK and in the Basque Country; these are listed below. Details and new events will be added as we receive them so please check the web for full details nearer the proposed date.
Do let us know of other events relating to the Basque niños by emailing: secretary@basquechildren.org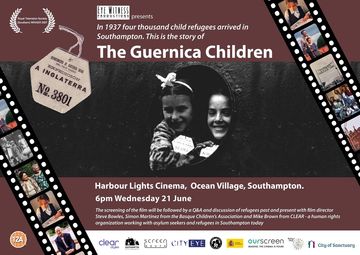 NOW - Tickets are now on sale for the SOUTHAMPTON event at Harbour Lights Picturehouse on 21st June
28th May - LONDON
Annual commemorative meal for niños and their relatives.
Anyone who has not received a letter about it please contact Luis Jarero at
luisjarero@yahoo.com
. Please note that this event is not organised by BCA'37 UK.
10th June - WHERSTEAD PARK (Suffolk)
80th anniversary event - The Street, Wherstead, Ipswich IP9 2BJ,
1.30 pm, refreshments from 12.30
The East of England Co-op is hosting an event to mark the 80th anniversary of the arrival of niños to Wherstead Park. The event will start with the unveiling of a plaque by Paco Robles to mark the support given; followed by talks from representatives of the BCA'37 UK, Paco Robles and local historians Adrian Bell and Ed Packard. (More details to follow)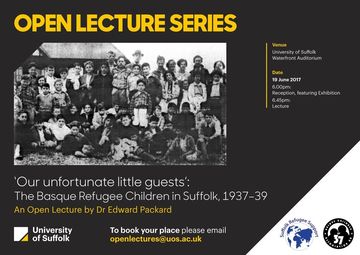 19th June - IPSWICH (Suffolk)
'Our unfortunate little guests: The Basque Refugee Children in Suffolk, 1937-1939'
An Open Lecture by Dr Edward Packard. University of Suffolk, Waterfront Auditorium. 6.00pm Reception, 6.45 Lecture.
Event Poster.
To book your place email
openlectures@uos.ac.uk
.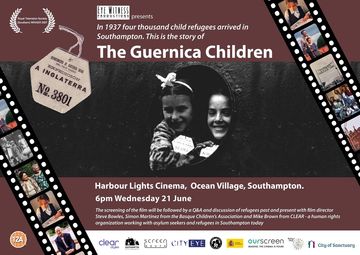 21st June - SOUTHAMPTON
'The Guernica Children' - Harbour Lights Picturehouse, Ocean Village, Maritime Walk, Southampton SO14 3TL, 6.00pm to 8.30pm
Showing of Steve Bowles' prize winning documentary, an exhibition and a discussion with a panel consisting of Steve Bowles, Simon Martinez (BCA'37), and Mike Brown from CLEAR, a human-rights organisation working with asylum-seekers and refugees in Southampton today.
Tickets are now on sale for this event. Buy online at:
www.ourscreen.com/film/The-Guernica-Children
.
A limited number of tickets are available at £9 each directly from BCA'37 — contact:
secretary@basquechildren.org
.
1st July - LONDON
Annual IBMT commemoration at the Jubilee Gardens.
Amongst the speakers - Herminio Martínez.
8th July - BRISTOL
Bristol Euskal Etxea
(Details to be announced)
10th July - CAERLEON (Nr Newport, Gwent)
Caerleon Arts Festival, 7th to 16th July
10th July is the 80th anniversary of the arrival of 56 Basque children to Caerleon and the Festival is dedicating a whole day to commemorating this event: talks by Hywel Davies, Eddie Butler and Carmen Kilner; films; a guided walk; our BCA'37 exhibition and other entertainment.
(More details nearer the time)
18th June - 24th September - SALFORD (Greater Manchester)
Exhibition of works by Claire Hignett - Ordsall Hall
An exhibition of works by Claire Hignett based on the story of the Basque children in Salford. (More details nearer the time)
28th August - DUNDEE
Exhibition and showing of 'The Guernica Children' - Dundee Library
(More details nearer the time)
---
Other News, Notices & Events
An exhibition to commemorate an incredible act of kindness
The Exhibition at Eastleigh Library still has a few days to run, until 23rd May - see our event list above.
This article in the Daily Echo has a good gallery of photos.
---
Mari Carmen Wood (Nee Andrés)
We are sad to report the news from Peter Wood that his wife Mari Carmen (Nee Andrés) passed away in mid March after a long illness linked with diabetes.
---
Carmen Kilner's report on her recent visit and series of presentations in the Basque Country
Wednesday 26th April: "The journey started with our flight into Bilbao. It was chilling to realise as we were making our approach over land into Loiu airport at about 5pm, that exactly 80 years ago to the hour, waves of German bombers were travelling a similar route and bombing Gernika …" Read more here …
---
26th April 1937 – 26th April 2017
We commemorate the 80th anniversary of the iniquitous bombing of Gernika; the response to which set in motion the evacuation of 4,000 children from the Basque Country to Britain.
---
We present for the first time a documentary 'The Gernika Story' about the bombing of Gernika produced by IDEM, Bilbao, in collaboration with Steve Bowles, producer of the award winning 'The Children of Guernica'. It can be viewed in English, Spanish or Basque.
Click here
for an introduction by Steve Bowles …
… and here
to view on youtube.
---
We also present a link to a very interesting and informative article from the website of the Gernika Peace Museum. The article 'Bombing of Gernika' can be viewed in English, Spanish or Basque.
Read more here …
---
We note that the May edition of BBC History magazine on sale on 27th April, will have a feature by Paul Preston on Guernica.
---
A recent Jeremy Vine Show on Radio 2 featured an excellent short article about the bombing of Gernika with interviews with Prof Paul Preston and Herminio Martínez. The relevant part starts at around 1 hour 34 minutes:
View it here …
MAJOR ADDITION TO OUR RESOURCES
It is fitting that as part of our commemoration of the arrival 80 years ago of the 'SS Habana' to Southampton docks, we present on our website the lists of the 4,000 passengers: children, teachers, assistants and priests. This major contribution to our web resources was carried out by Gerald Hoare. Read more here …
---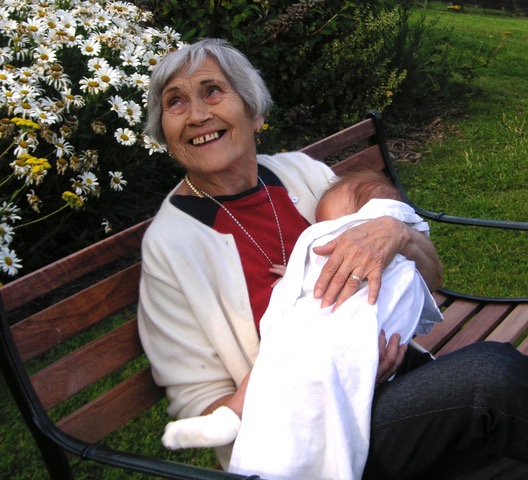 Enriqueta Maíz Estéban
We have received the sad message from Carmen Smith of the death of her mother Enriqueta Maíz Estéban on March 29th, aged 95.
Read more details here …
---
---
Welcome
In 1937, during the Spanish civil war, almost 4,000 children were evacuated to the UK from Bilbao. Read more …
At first they stayed in a camp at Stoneham and later in colonies throughout the UK. Read more …
We want to remember and preserve the story of these niños de la guerra in their rightful context. Read more …
From the Archives
Remembering Leah Manning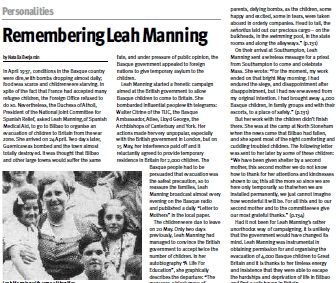 … the Duchess of Atholl asked Leah Manning to go to Bilbao to organise an evacuation of children to Britain fromthe war zone …
Latest Articles
by Neil Robson, with acknowledgements to the publisher: The Wandsworth Historical Society
---
by Mark Phillimore
---
by Forbes Inglis
---
by Gary Willis: submitted as part of his MRes in Historical Research, University of London
---
Simon Martinez
---
Simon Martinez
---
---