What's on this site
---
Web site last updated on:
20 September 2017
80th Anniversary News, Notices & Events
This year is the 80th anniversary of the arrival of the SS Habana and its 4,000 children passengers.
We are involved with a series of public events around the UK and in the Basque Country; these are listed below. Details and new events will be added as we receive them so please check the web for full details nearer the proposed date.
Do let us know of other events relating to the Basque niños by emailing: secretary@basquechildren.org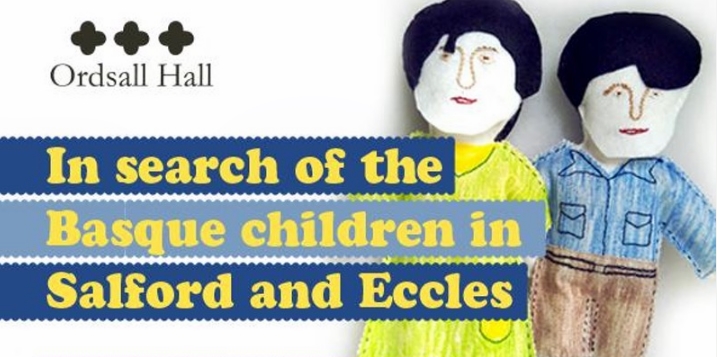 18th June - 24th September - SALFORD (Greater Manchester)
Exhibition In Search of the Basque Children in Salford and Eccles - Ordsall Hall, 322 Ordsall Lane, Ordsall, Salford M5 3AN
7th October - MONTROSE
Concert with na-mara,laying flowers at existing plaque, BCA'37 exhibition and stall.
(More details nearer the time)
9th October - EDINBURGH
Showing of "The Guernica Children", exhibition, talk, Q & A session.
(Still in planning stages - more details nearer the time)
---
Other News, Notices & Events
NEW
Children at Bray Court, Maidenhead, Berks
We've just received a couple of photos of the children at Bray Court. These were kindly sent to the BCA by Wendy Round, the daughter of Harold Lammas, with glasses at back left of the first photo.
See the photos in our gallery here.
Book Review
We've received a review of John Simmons' Spanish Crossings by Ed Packard. Read it here …
Obituary published - Giordano Díaz Lombardero
In The Guardian. Read it here …
New Reference Section
If you've not already subscribed to the list for our regular "eNotices", then you can do so here. If you're only recently subscribed, you can catch up on all the previous notices in our new reference section here.
See it in the 'Reference' section in menu to the left of this column.
Annual Meeting
The annual comida of los niños vascos took place on the 28 May.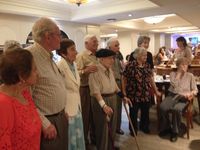 Ten of the children were joined by ninety family members for an afternoon of conversation, remembering, smiles and a few tears, good food and wine.
Thanks to Luis and Amaya for organising this wonderful event. Thanks to Manuel for organising the raffle which raised £315 for the Basque Children Association. And thank you to the staff of the Melia Hotel who made us so welcome.
Click for a full resolution photo
Muchas Gracias, Simon Martinez
---
---
Welcome
In 1937, during the Spanish civil war, almost 4,000 children were evacuated to the UK from Bilbao. Read more …
At first they stayed in a camp at Stoneham and later in colonies throughout the UK. Read more …
We want to remember and preserve the story of these niños de la guerra in their rightful context. Read more …
From the Archives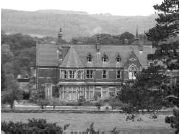 A recent visit to Hutton Hall
A personal reflection by Cliff Kirkpatrick
"Since becoming a member of the Association in 2007, visiting as many Basque children's homes as possible has been high on my 'things to do' list …"
---
… and an article you may have missed:
The First Child to be Returned
By Cliff Kirkpatrick
Read the full article here …
Latest Articles & Reports
review by Ed Packard
---
report by Barbara Coombs
---
by María Dolores (Lita) Power
---
report by Barbara Coombs
---
by Carmen Kilner
---
---