What's on this site
---
Web site last updated on:
20 March 2018
Association forthcoming events
18 March SHOTLEY GATE, Suffolk
The Shotley Peninsular Local History Group, Shotley Sailing Club, Queen Victoria Drive, Shotley Gate. 7pm for 7.30pm
24 March WICKHAM MARKET, Suffolk
Wickham Market Village Hall, 11.00am to 5.00pm
Remembering the Basque refugee children in Wickham Market,
1938-1939
A collaborative event between Wickham Market Area Archive Centre and BCA'37 UK commemorating the arrival of nearly 100 Basque child refugees to a colony at Wickham Market.
Featuring the unveiling of a commemorative plaque, BCA'37 UK exhibition and talks by DrAdrian Bell and Dr Ed Packard (University of Suffolk). Further details here …
27 April - 29 April TOTNES
The Dartington Hall Trust, Totnes TQ9 6EL
Carito y Marina: From Bilbao to Dartington
A weekend of events, public discussions and exhibitions on the Dartington Hall estate celebrating the lives and legacy of the Rodríguez sisters, Carito and Marina.
Further details and booking information on the Dartington website www.dartington.org/whats-on/event/?id=303398 and by contacting totnesgrove@yahoo.com
23 May SHEFFIELD
Weston Park Museum, Western Bank, Sheffield S10 2TP 13.30pm - 16.30
The Basque Children in Sheffield and the Spanish Civil War
An afternoon of talks and the opportunity to view the exhibition 'Sheffield City of Protest'
Speakers: Dr James Yeoman, Prof Mary Vincent, Stephanie Wright
(all University of Sheffield) and Simon Martinez (BCA'37UK)
13 June KEIGHLEY
Thornton Antiquarian Society Society presents:
The Reverend John Balmer and the Basque Child Refugees
in Bradford and Keighley
A talk by John Birkbeck (grandson of the Revd Balmer) and
Simon Martinez (BCA'37UK)
The Reverend Balmer was the Chair of the Yorkshire Committee for Spanish Relief and Secretary of the Keighley Basque Children Committee. He was the minister at The Devonshire Street Congregational Church in Keighley. During the Spanish Civil War 24 children came to Bradford and 120 to Keighley. Further details to follow
25 June -1 July SOUTHAMPTON
Floor 4 Gallery, University Library, University of Southampton, Highfields, Southampton SO17 1BJ
From Bilbao to Southampton to Salford
Another opportunity to view this exhibition of conceptual art by Claire Hignett, which was previously exhibited at Salford.
28 June SOUTHAMPTON
University of Southampton, Highfields, Southampton SP17 1BJ
13.30pm - 16.30pm
The Basque Child Refugees and the Spanish Civil War -
History and Memory
An afternoon of talks to explore the impact of Total War on Children, The struggle for the souls of the children, two Local Studies of the Child Refugees and adults in refugee camps in France, and a personal account of one family.
Speakers: Dr Peter Anderson (Leeds University), Dr Ed Packard (University of Suffolk), Dr Graham Soo (University of Southampton) and Carmen Kilner (BCA'37UK). Further details here …
Tickets can now be booked at Eventbrite.
---
Other News, Notices & Events
BBC Radio 4 - Minority Rights and
The Hanging Gardens of Babylon Drama,
The Ferryhill Philosophers
This 45 minute play is about refugees and immigration - the problems, the facts and some history. There is a surprising little twist where the evacuation of the Basque children is mentioned.
It is available to listen on: www.bbc.co.uk/programmes/b09w0g06
---
Manuel Rodriguez Urbano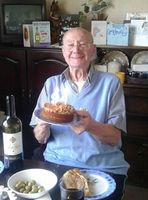 Manuel Rodríguez has given us the sad news of the death of his father, Manuel Rodriguez Urbano.
Born in Bilbao on 16th November 1923, died in the UK on 23rd February 2018, aged 94.
Our condolences to all the family.
More details will be published here when known …
---
Visit to Parliament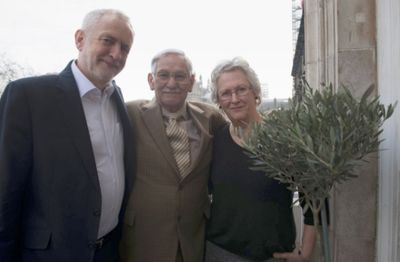 On February 21st Paco Robles and Carmen Kilner were invited to attend Prime Minister's Questions in the House of Commons as guests of the Leader of the Opposition, Jeremy Corbyn.
---
The Gernika children who took refuge in Britain
(From 2012)
"Herminio Martinez was one week from his eighth birthday when he hitched a lift in the local fishmonger's van to the docks at Bilbao. There he and his brother would board a ship to England …"
Published in El País — Read it here.
---
Review of 2017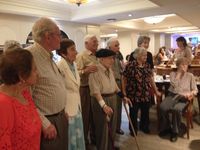 This 80th anniversary year was one of our busiest and most eventful years.
We have prepared our "Annual review 2017": a summary of the Association's activities and actions, together with a brief financial report, and a pictorial overview of the year's events month by month.
---
Changing Lives:
200 years of changing lives and protest
Weston Park Museum, Western Bank, Sheffield S10 2TP
From 6 February to 1 July 2018
"As part of the theme of unity with national and international causes the time spent in Sheffield by 25 Niños Vascos is explored through a poster, press cuttings, books …"
More on the Museum web site and in this report by Barbara Coombs.
---
The Gernika Peace Museum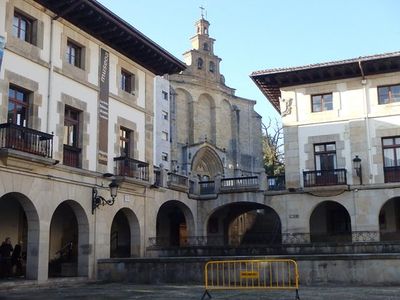 The Gernika Peace Museum Foundation has a long and outstanding history of using the archives of war and atrocities, not only those of Guernica, as a vehicle for understanding conflict and finding a way forward towards peace.
The museum is well worth visiting if you have not yet done so. They produce exhibitions, talks and events throughout the year and although not all will have a direct reference to the niños de la guerra, they will all have that relevant background context.
Two items of current interest are the following:
An exhibition in Gernika at Museum running from 15 December 2017 until 16 September 2018 entitled Memories of Stone and Steel — monuments to victims of the Spanish Civil War and Francoism in the Basque Country (1936 - 2017). Details here …
and an invitation to the opening on 15 December 2017
A brochure by the Education Department of the Gernika Peace Museum Foundation containing much of interest to schools and others. Details here …
---
BBC Radio 4 - In Our Time - Picasso's Guernica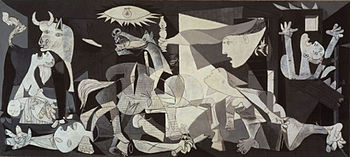 Melvyn Bragg and guests discuss the context and impact of Pablo Picasso's iconic work, created soon after the bombing on 26th April 1937 that obliterated much of the Basque town of Guernica, and its people.
Available to listen to on: www.bbc.co.uk/programmes/b09bxkdm (43 minutes)
---
---
Welcome
In 1937, during the Spanish civil war, almost 4,000 children were evacuated to the UK from Bilbao. Read more …
At first they stayed in a camp at Stoneham and later in colonies throughout the UK. Read more …
We want to remember and preserve the story of these niños de la guerra in their rightful context. Read more …
From the Archives
From Newsletter 3, March 2005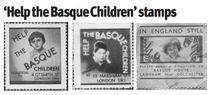 An article by Natalia Benjamin about the "Cinderellas" - a term used in philately for anything that may look like a postage stamp but is not …
---
… and an article you may have missed:
Leah Manning and the Basque children of Theydon Bois
by Ted Martin.
Read the full article here …
Latest Articles
report by Barbara Coombs
---
by Richard Graves (Leicestershire Historian, Vol. 52 (2016) & Vol. 53 (2017))
---
report by Simon Martinez
---
report by Carmen Coupland
---
review by Ed Packard
---
report by Barbara Coombs
---
---