Our Activities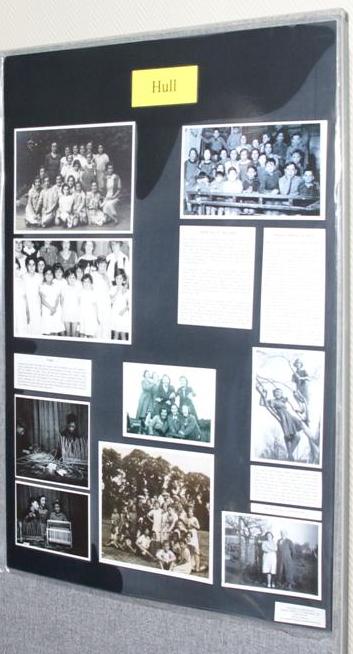 Exhibitions
The Association now has a collection of 30+ display panels mostly dedicated to different colonies, with photographs of the niños and newspaper reports, as well as tickets, posters and other material. Our display panels are used at several exhibitions each year.
2019
As part of the "The Museum of Childhood Ireland Project (MCI Project)" travelling exhibitions on Children in War From 18 July 2019 to early 2020 in Dublin, Cork, Galway, Co. Mayo, Co. Leitrim, and Derry and Belfast Central Libraries
At the meeting of Morris Dancers with a group of Basque Dancers from Berriz from 31st May to 2nd June 2019 in Thaxted Essex
At the Leeds Central Library from 18 March to Friday 5 April 2019
2018
At the Portobello Library, Edinburgh from 15 to 29 October 2018
At the Instituto Cervantes Manchester from 27 Sep to 12 Nov 2018
As part of the Caerleon Arts Festival from 7th to 16th July 2018
2017
As part of the Caerleon Arts Festival from 7th to 16th July 2017
At Dundee Central Library with special reference to the colony at Montrose from 28th August to 11th September 2017
In conjunction with showing of 'The Guernica Children' at Harbour Lights Picturehouse, Southampton on 21st June 2017
At Wherstead Park (Suffolk) as part of the 80th anniversary event 10th June 2017
Prior to 2016
Tolson Museum, Huddersfield on 8th March 2015
Together with work by José María Martínez Castillo ('Koke') in Bilbao at the Salón Chillida, Bizkaia Aretoa from 7th to 27th March 2013; in San Sebastián at the Centro Carlos Santamaría from 8th to 30th April 2013; and in Vitoria-Gasteiz at the Pabellón Universitario del Campus Universitario de Alava from 14th May to 28th June 2013
The 75th Anniversary Commemoration at the University of Southampton on 12th & 13th May 2012
Hutton Hall, Ormsbey Hall and Middlesborough from 23rd May to 26th July 2009
The 70th Anniversary Commemoration at the Conference Centre of Solent University, Southampton on 26th May 2007
The Sutton Exhibition and Resources Centre, Sutton-on-Hull on November 2006
Worteley Hall, Sheffield on July 2006
The Instituto Español Cañada Blanch, London in May 2006
Nottingham Trent University in March 2006
Eastleigh in July 2005
Bradford in June 2005
Southampton University in December 2004
Southampton Civic Centre in November 2004
In addition, the Association collaborated with the exhibition "El Exilio de los Niños" which toured Spain from December 2003 to May 2005.