Our Activities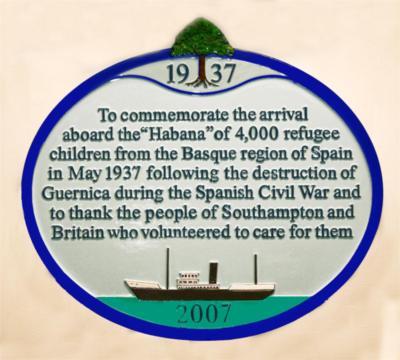 Commemorative Plaques
A major endeavour with which we have become involved is the erection of Blue Plaques to mark the sites of previous colonies and to acknowledge the care and support of the local people.
It involves contacting and liaising with local councils, historical societies, and local papers. It often unearths surprising new facts, details, memories and occasionally a new niño or niña is found, so these can be a very emotional event all round!
These popular events are always well supported locally, and, together with the publicity they produce, have become a valuable way of educating the public and attracting interest in our Association.
We recently erected a plaque outside the Southampton City Library to commemorate the 70th Anniversary of the arrival of the niños at Southampton.
Our most recent plaque was erected in Montrose, the only Basque children's colony in Scotland.
The following is a list of the Blue Plaques that have been erected by the Association at the sites of previous colonies:
Aston — Westfield House, Aston, Brampton, Nr Witney, Oxfordshire (formerly St Josephs) (July 2003)
Caerleon — Pendragon House, 18, Cross Street, Caerleon, South Wales (October 2004)
Cambridge — 1 Salisbury Villas, Station Road, Cambridge (May 2005)
Hull — Sutton Care Home, Sutton-on-Hull (formerly Elm Trees) (November 2006)
Worthing — Beach House, Brighton Road, Worthing, Sussex (May 2007)
Southampton — Civic Centre, Southampton (May 2007)
Montrose — Mall Park House, Mall Park Road, Montrose, Scotland (October 2008)