Our Activities
Recent News & Events
"Beyond the SS Habana" A new book
Stepping onto English shores, Josefina Suñé is uprooted from her Spanish background … this true story unfolds as she falls in love and marries … but her new life is destroyed when caught up in the German Occupation of France …
More details …
---
7th August 2015
IBCC Event in Belfast
Shankill Library, Shankill Road, Belfast
Talk by guest speaker Manuel Moreno on "The Guernica Generation"
Time: 12:00 - 14:30 with a light lunch at 12:00.
More information …
---
Gernika: A new film
Paying homage to civilian suffering over town that was brutally bombed during Spanish Civil War
Our readers may find the following article interesting. It is about a new film being made on the bombing of Guernica.
Read the Independent article …
---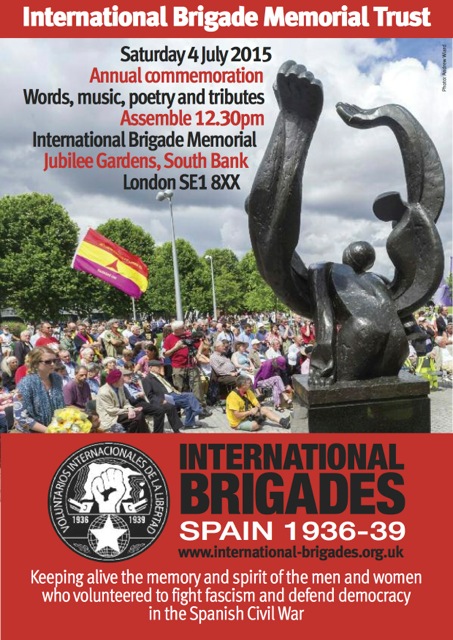 4 July 2015
IBMT Annual Commemoration
International Brigade memorial, Jubilee Gardens, South Bank, London SE1 8XX
This year's commemoration takes place from 1pm-2pm (assemble from 12.30pm).
Speakers include Owen Jones, with music from Ewan McLennan and Karl Lewkowitz and poetry from Francesca Beard.
More information …
---
Until 30 June 2015
Exhibition - "The Waiting Room"
Instituto Cervantes, 102 Eaton Square, London SW1W 9AN
A project about the Spanish Exile in the United Kingdom. Exhibition, screenings, performance and talks see link below:
http://iccommunication.co.uk/IC/Waiting_room_listings.html
---
30 April 2015
From 'The Guardian' archive, 30 April 1937: Editorial: the senseless bombardment of Guernica
---
8 March 2015
Film that tells the story of the Basque children who were evacuated to the United Kingdom during the Spanish Civil War.
Tolson Museum, Ravensknowle Park, Wakefield Road, Huddersfield HD5 8DJ
The film accompanies the exhibition "Basque Children in Yorkshire 1937" which is currently on display at the museum on Wakefield Road.
The film showing starts at 2pm and will last approximately an hour.
Afterwards, Carmen Kilner, who was instrumental in putting together the film and the exhibition, will answer questions from the audience.
Flyer for the event Note: attendance is free, but places must be reserved
More event details
01484 223830
tolson.museum@kirklees.gov.uk
---
28 March 2015
Arturo Barea: From Civil War Madrid to Exile in Oxfordshire
Talk by William Chislett. Introduced by Harry Eyres.
Part of the FT Weekend Oxford Literary Festival
Bodleian: Divinity School
---
12 - 28 February 2015
Dance Theatre: The Typist
Glasgow, Inverness, Stornoway, Musselburgh, Cumbernauld & Edinburgh
A captivating piece of dance theatre, narrated by Alexei Sayle, featuring renowned dancers Kerieva McCormick and Raúl Prieto (formerly Ballet Flamenco Sara Baras) … accompanied by breathtaking special effects and a specially commissioned score.
This story follows one of the los niños vascos, Esperanza, a typist, twenty years later in post-war Britain, who decides to make the dangerous journey back to her past, and Franco's Spain.
Full announcement
with specific times, prices and venues.
Booking:
www.kam-ri.com
---
17 January 2015 – 29 March 2015
Exhibition: Basque children in Yorkshire 1937
Tolson Museum, Ravensknowle Park, Wakefield Road, Huddersfield HD5 8DJ
After the destruction of Guernica 4,000 children were evacuated from Spain to the UK. They were dispersed to many "colonies" across the country including one at Almondbury.
This exhibition by the Basque Children '37 Association UK remembers and preserves the story of these children:
los niños vascos.
www.kirklees.gov.uk/museums
01484 223830
tolson.museum@kirklees.gov.uk
---
Older News & Events
News & Events 2014
News & Events 2013
News & Events 2012
News & Events 2011
News & Events 2010
News & Events 2009
News & Events 2008
News & Events 2007
News & Events 2006 – 2004