Obituaries
Enriqueta Brooks (née Maíz Estéban)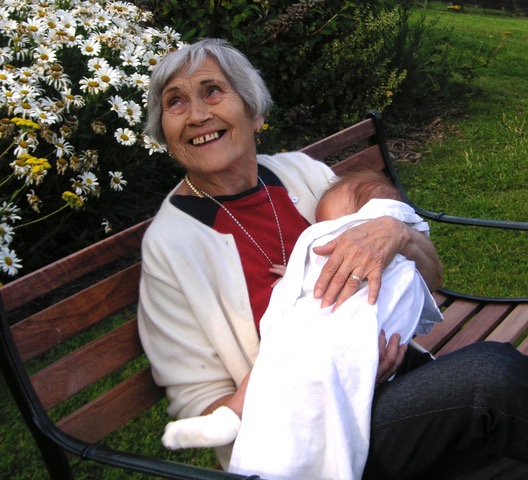 Enriqueta's daughter Carmen Smith writes:
I am very sad to report that my mother, Enriqueta Brooks (née Maíz Estéban) passed away on March 29th, 2017, aged 95. She had been suffering from dementia for some years, and died at Wotton Rise Nursing Home, Gloucester.
Ketty, as she was known to her friends, was born in Bilbao on 2nd August 1921. When she arrived in England on the Habana with her younger sister, Carmen, in May 1937, she was one of the oldest niños, at 15. Another sister, Feli, had already been evacuated to France.
She and Carmen were sent to the Aston colony, near Witney. Sadly, both her parents died in the Spanish conflict – her father killed by a bomb, her mother one of the many who disappeared without trace. In 1940, she married a Witney boy, Jack Brooks, whom she met at a dance while he was playing and singing with the band, and she became a valued member of a new English family. She gave birth to me in November 1943.
Her sister Carmen married one of the niños from Theydon Bois, Jesús Alcon, but tragedy struck once more when Carmen died in 1947, just six months after her baby son Marcos had been born. Ketty then fostered Marcos for three years until his father remarried and she had to give him up.
Ketty lived and worked in Witney for many years. The sewing skills she had been taught during her Spanish convent education stood her in good stead. During World War II, she made uniform hats for the forces at Compton, Sons and Webb. In later years, she made loose covers and curtains at the department store of Cook and Boggis, and carried out the same kind of work from home after the store burned down.
She then worked in the office at Curry's electrical store, and lastly at the Southern Electricity Board's offices in Kidlington.
She and Jack were divorced in 1970, but she was nothing if not self-reliant. She was an excellent manager, and gradually paid off the mortgage on the family home. She took great interest in her three grandchildren, Katharine, Natalie and Ben, and eventually her 11 great-grandchildren, expressing amazement that so many people could have originated from just her!
From 2002, she spent some 13 years in Scotland, near the home of her eldest grand-daughter, her last home being in a sheltered flat in Melrose. She was a member of the local U3A Spanish group.
Sadly, the dementia took its toll over the last eight years or so of her life, and robbed her of her vibrant personality. In May 2015, she came south and lived with my husband and me for 10 months until we could no longer manage, and reluctantly admitted her to a local nursing home. Ketty was a true survivor, though, and battled on to the end.
Her cremation was held – just a family event, with no religious content, as adamantly specified by her – on April 6th at Gloucester Crematorium. Her ashes are to be interred at the Windrush Cemetery in Witney.